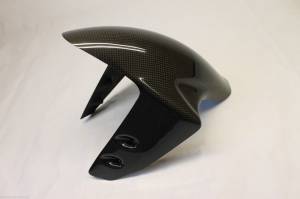 Carbonvani Carbon Fiber Front Mudguard With Cable Cover: Gloss Clear
Carbonvani.Pani.Fen - N-1
Limited Supply: only 1 remaining
Description
High quality pre preg Carbon fiber front mudguard designed for improved aerodynamic efficiency at the front end. The carbon mudguard is extremely light, weighing as little as 0.17 kg.
Polished finish
* NOTE: Pre-preg Carbon Fiber parts use less resin because it is "cooked" under pressure in an autoclave which results in a stronger and lighter product than typical wet-lay up Carbon Fiber because it eliminates excess resin. The autoclave process eliminates voids, pushes out excess resin and creates a denser more uniform product that is lighter, stronger and more flexible. Pre-preg is the
preferred method for racing, and aerospace. It is more expensive to build with this method but it results in a
superior product.
Shipping Information
Item Requires Shipping
10.0 lbs.
W14.0000" x H14.0000" x L14.0000"
Free Shipping - USPS or UPS
Customer Reviews
Total Reviews (0)
You must login to post a review.
---
---