Frame sliders have a singular purpose: to protect the most important parts of your bike in the event of a crash.
A tip over or slide can be disastrous for the major components of your bike, as well as the paint job. Frame sliders are designed to keep the frame of your motorcycle off of the ground and absorb the initial shock of the collision to distribute the force more evenly across your motorcycle. Frame sliders elevates the bike just enough to keep crucial parts from being damaged, but not so much that it promotes flipping or rolling. Frame sliders drastically reduce the impact of a crash across the frame and through the engine, which is usually a more rigid structure than the bike's frame. They are helpful in almost any impact situation; whether the bike happens to simply tip over or in the event of a low-side crash (where you lose traction) and your motorcycle slides out from under you and down the road. Without the sliders the bike itself would slide along the pavement, damaging the chassis, breaking the engine cover, snapping a shift lever, gouging the fairings, as well as getting brutally scratched in the crash.
Speedymoto Frame Sliders
The Speedymoto Ducati frame slider system is the most robust bike frame sliders available on the market today. For slider puck, Speedymoto uses Ultra High Molecular Weight (UHMW) plastic. The sliders are not only comprised of superior UHMW plastic but also have a solid structure. The UHMW plastic's low friction coefficient makes it practically glide on the pavement, reducing the risk of 'grabbing' and avoiding turning a smooth low-side into the dreaded catastrophic high-side.
Why choose Motowheels for your frame sliders?
Our Speedymoto frame sliders, Ducati Monster 1200/S/R, are some of the most popular parts we offer. Our customers have shared hundreds of positive reviews all over the web regarding the design, quality, and function of these sliders.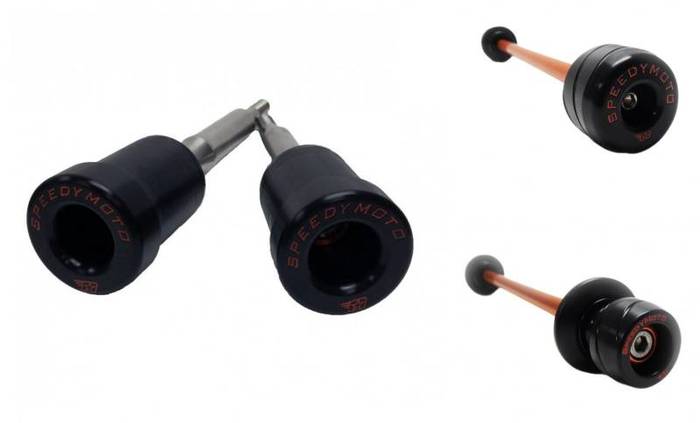 The Speedymoto frame slider kit includes 2 extremely durable 17-4 stainless steel engine studs that have been quenched and tempered to an aircraft grade tensile strength of 185,000 psi. The thread-formed, precision-ground studs surpass even OEM specs in both strength and wear-ability.
You shouldn't have to worry about a tip-over or low-speed crash damaging your motorcycle and our Speedymoto frame sliders give you the peace of mind that you need. Motowheels has been a preferred Ducati parts supplier since 1999 and you can count on our part's quality, durability, and performance. Learn more about our Ducati Speedymoto Frame Sliders here and grab a set for your bike today.