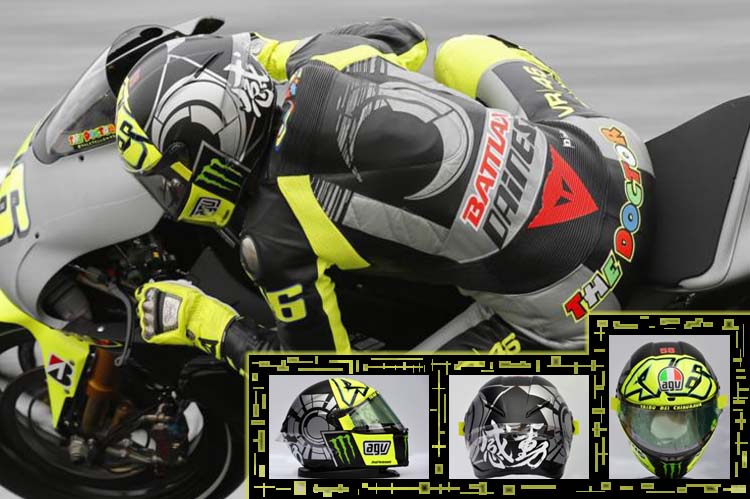 AGV Corsa Helmet Awarded 5 Stars, Confirmed Among World's Safest Helmets
COSTA MESA, Calif. (May 19, 2014) – AGV's groundbreaking Corsa helmet recently earned another important distinction when the influential British certification board SHARP (Safety Helmet and Assessment Rating Programme) granted the model its maximum five-star rating. This helmet, which is a member of the AGV Extreme Standard Helmets family, is now listed among the 321 safest helmets in the world.
The five-star certification is defined by the British Department of Transport, and it represents the body's highest mark for safety. SHARP assigns this important rating by means of an independent evaluation system that subjects helmets to safety-criteria tests without involving the manufacturers. The Corsa used in the test was an ECE model that was obtained from a UK dealership (U.S. models are DOT/ECE-certified).
Significantly, the British Department has determined that 50 lives per year could be saved in the UK if all riders used helmets that received the top SHARP rating. The Corsa helmet earned this important certification thanks in part to AGV's Extreme Standard Helmets design system, which defines new standards for safety, ergonomics and comfort. The Corsa design process begins with the components that are directly in contact with the head, and then works outward to the final shell.
Technical Characteristics
• Shell: SSL (Super Super Light) in fiberglass, aramid and carbon fiber
• Number of shells: 4 shell sizes
• Fabric: Breathable Lycra® and Shalimar with sanitizing treatment
• Liners: Fully removable and washable
• Ventilation system: IVS (Integrated Ventilation System) ventilation with large air ducts on the shell (air vents with open/close mechanism).
• Visor mechanism: XQRS (Extra Quick Release System) in metal, with swivel opening. Microlock front locking and visor micro-opening system. Quick-release system for tool-free removal and replacement of visor in seconds.
• Visor: Flat RACE, Class 1 optical standard, non-scratch, anti-fog visor (4 layers) with wide field of vision and tear-off strips
• Other:
• Double D retention system
• Removable nose guard
• Removable windproof chin-strap protection
• Sizes: XS, S, MS, ML, L, XL, XXL
• Price: Starting at $749.95
About AGV
AGV is a premium race and sport helmet manufacturer that researches, projects and commercializes innovative systems for the protection of motorbike riders' heads. The company that produced the world's first fiberglass helmet in 1954 now produces helmets following AGV Extreme Standards, a process that has revolutionized helmet design in a way that is demonstrable and measurable in terms of protection, ergonomics and comfort. In 2007, AGV was taken over by Dainese and company president Lino Dainese, whose two companies manufacture protective products that showcase some of the most innovative technologies in action sports and are used by the world's top riders. AGV is distributed in North America by Dainese USA and Parts Unlimited.