Motowheels.com
»
JW Speaker

JW Speaker Headlights for Motorcycles

When anyone who goes fast also needs to see in the dark, JW Speaker is the name they trust. The JW Speaker Corporation has been making automotive lights since its founding in 1935 but truly began focusing on nighttime visibility in 1960. They've since been a world-leading OEM and aftermarket headlight manufacturer for motorcycles, cars, agricultural equipment, aviation and much more. Every step of design and production for this family-run business is still done in their home of Germantown, Wisconsin, where they develop high-performance lighting that makes any time riding time.

Use innovative motorcycle headlights and accessories that truly "speak" to you by ordering from Motowheels.com. JW Speaker direct replacement LED highlights use high-output, long-lasting bulbs in a die-cast aluminum housing. This means better visibility, safety and durability at night or on cloudy days. The adaptive motorcycle headlight goes even further by sensing leaning angles of up to 30 degrees while turning - the lights then shift to fill the dark areas. All JW Speaker headlights have plug-and-play connectors with a black or chrome housing finish. Contact us with ordering questions or to learn more about the world's best motorcycle lights.
---
JW Speaker Categories
---
JW Speaker
Products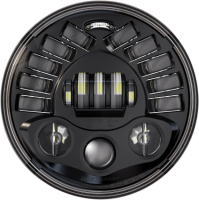 Description:
Adaptive headlight senses leaning angles up to 30° and dynamically fills in dark areas while turning
Item #:
2001-1773 - 2001-1773