Motowheels.com
»
Akrapovic

Akrapovic Aftermarket Exhausts

If a motorcycle racer wants to be a champion, then they use an Akrapovic exhaust on their bike. Slovenian Igor Akrapovic spent 13 years as a professional motorcycle racer before he founded his tuning shop in 1990. Just a few years later, his motorcycle exhausts were used in international competition for the first time, and they've continued to grow ever since. Since 2010 alone, Akrapovic exhausts have won more than 70 motorcycle world championships in FIM Superbike, Motocross, Enduro, Supercross, Cross-Country Rallies and other series.

The Akrapovic products at Motowheels.com are the same aftermarket exhaust systems found on professional racing bikes. You'll find premium exhausts for Kawasaki, Ducati, BMW, Yamaha and Honda models. These exhausts are powerful and efficient, and by using materials such as carbon fiber and titanium, they offer significant weight savings. Akrapovic slip-on exhausts provide a moderate power increase without needing a champion race team's budget.

Motowheels.com also carries a variety of Akrapovic exhaust parts and accessories, including headers, mid-pipes, heat shields and O2 sensors. You can also represent your favorite exhaust brand with men's hats and beanies. We offer free domestic shipping on orders over $100 to help you save on high-quality parts.
---
Akrapovic Categories
"Motorcycle slip-on exhausts install easily and reduce air restriction from the engine while saving weight. Install a slip-on exhaust to your bike with any of the great looking, weight saving parts...
More Details »
---
Akrapovic
Products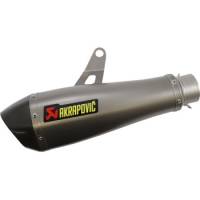 Description:
Akrapovic Slip On Exhaust
Item #:
M-CZ00105T - M-CZ00105T
Akrapovic Slip On Exhaust