Motowheels.com
»
Shell
Shell Motorcycle Oils
Motorcycle engines continue to advance with every generation - which means engine oils need to advance so your bike can perform its best. As an international leader in performance for all motorized vehicles, Shell will keep modern bikes on the road and running at their peak. Shell Advance 4-stroke motorcycle oils are formulated to extend an engine's lifespan by keeping it clean and cool while protecting against wear and corrosion. Whether you're a professional racer or a casual weekend rider, Shell synthetic motorcycle oils allow to you enjoy the ride without worrying about if the engine will last.
Order Shell Advance 4T Ultra oil from Motowheels.com whenever you're due for an oil change. We sell multiple weights of this race-proven engine oil that reduces valve train wear, makes gear changes smoother and reduces vibrations. Get a single bottle or stock up with a case of
12 Shell oil bottles
to protect your entire fleet. We've also put together complete
Ducati oil change kits
that contain four bottles of Shell Advance plus your choice of oil filter and an optional filter wrench. It's easy to maintain your bike with our low prices and knowledgeable service on the best motorcycle oil products.
---
Shell Categories
---
Shell
Products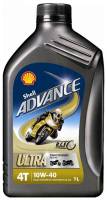 Description:
Fully Synthetic Motorcycle 4 Stroke engine oil
Item #:
23-102140 - 23-102140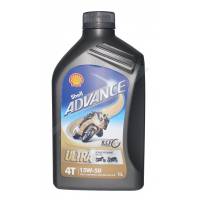 Description:
Fully Synthetic Motorcycle 4 Stroke engine oil
Item #:
23-152150 - 23-152150
Limited Supply:
Only 0 Left!