Motowheels.com
»
LSL
LSL Motorcycle Parts
When you want your aftermarket parts to have both style and substance, LSL will provide these things and more. LSL Performance was founded in the mid-1980s to develop and manufacture high-end motorcycle parts for European bike models. Since then, they've expanded into popular Asian motorcycles, too. The German company builds Clubman by LSL custom retro motorcycles upon request and also crafts precision technical parts and accessories so end-users can do their own customization. Thanks to a distribution deal with Spiegler USA, riders in North American can now experience LSL parts just like those on the opposite side of the Atlantic.
Those who ride a Ducati, BMW, Aprilia, Kawasaki, Suzuki or another famous bike will love the selection of LSL sportbike parts. Their massive inventory includes vintage
motorcycle headlights
,
steering dampers
, frame sliders, footpeg brackets, handlebar riser kits and seats. Use them to improve handling, make your bike more comfortable or add crash protection in case of an accident. Some parts are made for daily street riding while others are designed specifically for motorcycle racing. Contact us if you need a motorcycle expert to get the high-performance part you're looking for at a competitive price.
---
LSL Categories
---
LSL
Products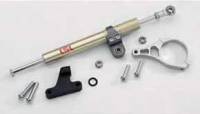 Description:
LSL steering damper
Item #:
Z100D015T - Z100D015T
Allow 5-7 days for shipping