Motowheels.com
»
Nexx Helmets

Nexx Helmets

Regardless of the laws in your area, the team at Motowheels.com always recommends wearing a helmet when you're on a motorcycle. A Nexx helmet provides maximum protection and comfort at any speed. Their helmets and accessories are 100% produced in Portugal with the latest safety innovations plus a stylish look. Through Nexx Helmets USA, we can provide you with the latest motorcycle helmets that also protect your melon for snowmobiling and other powersports.

Ask our experts about the correct Nexx lightweight motorbike helmets for adventure, sport, touring or urban riding. Even basic models such as the Nexx purist helmet have an advanced design with moisture-wicking fabric, removable lining, a Lexan anti-scratch visor, chin ventilation and other features. Racers might prefer Nexx XR2 helmets with their aerodynamic trim, carbon fiber shell and light reflectors. Select your size and stay safe!

Nexx now makes motorcycle helmet communication systems, too. Their Bluetooth X-comm devices link directly to compatible phones for hands-free calling, music, GPS navigation and more. You can remain up-to-date without ever taking your hands off the controls. We are your source for high-quality motorcycle headwear and accessories for a better, safer ride.
---
Nexx Helmets Categories
---
Nexx Helmets
Products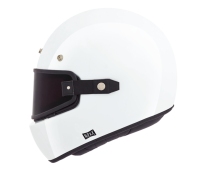 Allow 3-5 days for shipping. To check availability please call.