Motowheels.com
»
R&G

R&G Crash Protectors

Everyone who rides a motorcycle will eventually get in an accident matter how good they are. Crashes are an unfortunate byproduct of pushing the limits - but they don't have to mean a huge repair or medical bill. R&G Racing was formed in England with the sole purpose of producing the best motorcycle crash protection accessories for riders around the world. Since 1999, they have developed components that will keep you and your motorbike ticking after a dirt nap. Their accessories are so impressive that R&G Racing is the only company whose products can get you a discount from insurance companies!

Bounce up from a spill ready to climb back on your steed by getting R&G crash protection accessories from Motowheels.com. R&G sliders are a popular product that prevents the frame, gas tank or engine from hitting the ground if you go into a slide. You can also get an assortment of protective motorcycle guards, including navigation screen protectors, radiator guards, engine case covers and headlight shields. Even something as simple as a new kickstand shoe can prevent a big tumble. Order high-quality products to protect every inch of a prized sportbike with free domestic shipping on orders over $100.
---
R&G Categories
---
R&G
Products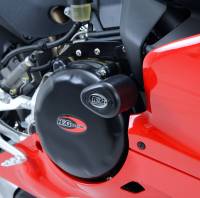 Description:
R&G Aero Style "No Cut" Frame Sliders for Ducati Panigale 899 '14-'15, Panigale 959 '16-, Panigale 1199 '12-'14 & Panigale 1299 '15-' | Black
Item #:
RG.CP0389BL - RG.CP0389BL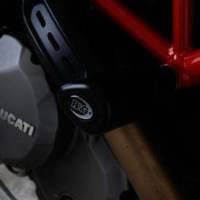 Description:
R&G Aero Style Front Mount Frame Sliders for Ducati Hypermotard 950 (2019-)
Item #:
RG.CP0470BL - RG.CP0470BL